Written by

Unkapt

On

Aug 01 2019,
Raising up to $25M for SMEs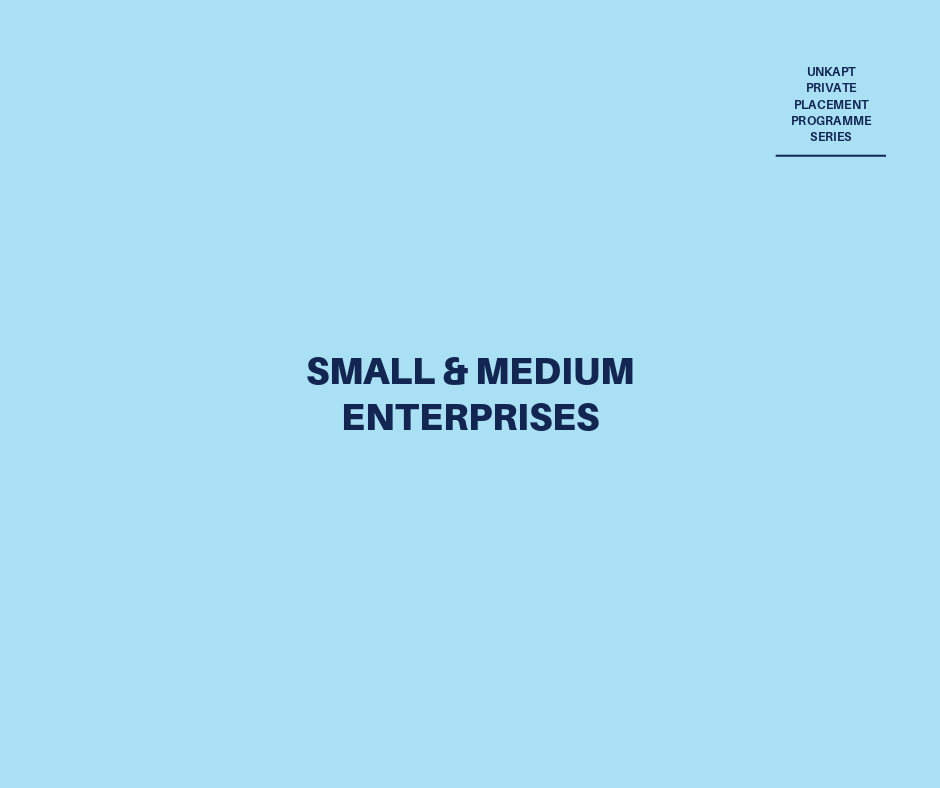 Programme overview
Small and medium enterprises ("SMEs") play a vital role in a country's economy and their contribution should not be underestimated. Unkapt mission is to provide SMEs with the means to grow by enhancing their access to finance through private placement offer on Unkapt and making sure SMEs have the necessary investment readiness level to succeed with their capital raising campaigns.
Why Unkapt
Simplicity: Unkapt offers a simpler, intuitive and streamlined process for SMEs raising capital.
Lowering engagement barrier: Unkapt increases the visibility of the SME private placement offer.
Expertise: Our personnel are highly qualified with the necessary expertise to assist SMEs.
Credibility: The involvement of Unkapt will enhance the credibility of the SME offer.
Target profile
Type: SMEs (incl. inclusive business, women-led business) with limited access to finance locally
Operations: Historical and profitable operations to support a capital injection
Issuance: Debt capital (incl. senior/junior debt and bonds)
Use of funds: Working capital, capex, growth, expansion and acquisition finance
Impact: Strong SDG/ESG agenda is a must.
Metrics
Issuance size: Preferred range is USD 1M – USD 25M; other issuance size will be considered on a case by case basis
Tenor: 5 – 7 year tenor on average
Yield: Varies on a case by case basis; may range from estimated 5% to 10% p.a for senior long term debt
Debt service coverage ratio: 1.5X – 2X
Debt to EBITDA ratio: Up to 7X
Key process
Register online at www.unkapt.capital
Once approved, SME completes and lodges the full application, including providing financial-related info, key personnel details, incorporation document/business license and offer materials.
Offer is listed on Unkapt and outreach campaign is undertaken.
On successful completion, binding agreements are entered into and funds are disbursed.
Email contact@5desire.com or info@unkapt.capital if you have any questions.